Congratulations to the great scientists of #isro for yet another successful mission.(PSLV-C26/ IRNSS 1C)

The IRNSS-1C, the third of the seven navigation satellites in the Indian Navigation Satellite System (IRNSS), has wide-ranging applications in terrestrial, aerial and marine navigation. From vehicle tracking to fleet management and from disaster management to mapping, the satellite extends services to its clients.
The IRNSS-C1 carried two types of payloads, one for transmitting navigation service signals to the users and another consisting of a C-band transponder to facilitate Cube Retro Reflectors for laser ranging.
The first two satellites in the series, IRNSS 1A and IRNSS 1B were launched from Sriharikota on July 1 2013 and April 4 this year respectively.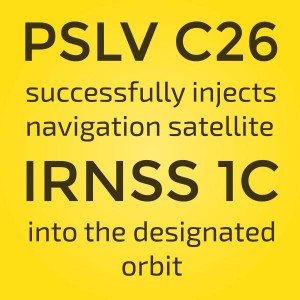 We are now one more step closer to #IndianGPS