The term "Geofence" is a buzz word associated with location-based marketing that's as over-used and misunderstood as the term "big data" across data science. The google dictionary describes a geofence as "a virtual geographic boundary, defined by GPS or RFID technology, that enables software to trigger a response when a mobile device enters or leaves a particular area." Put more simply, a geofence is a boundary around an entity in which one may want to influence or contact those who enter. To be clear, a geofence provides the framework for reaching the audience within the boundary, but it does not contact the audience for you. The end user must expose their location, usually through an application on a mobile device, so that when the location is recognized to be within the geofence, a notification can be programmed to reach the end user in real-time.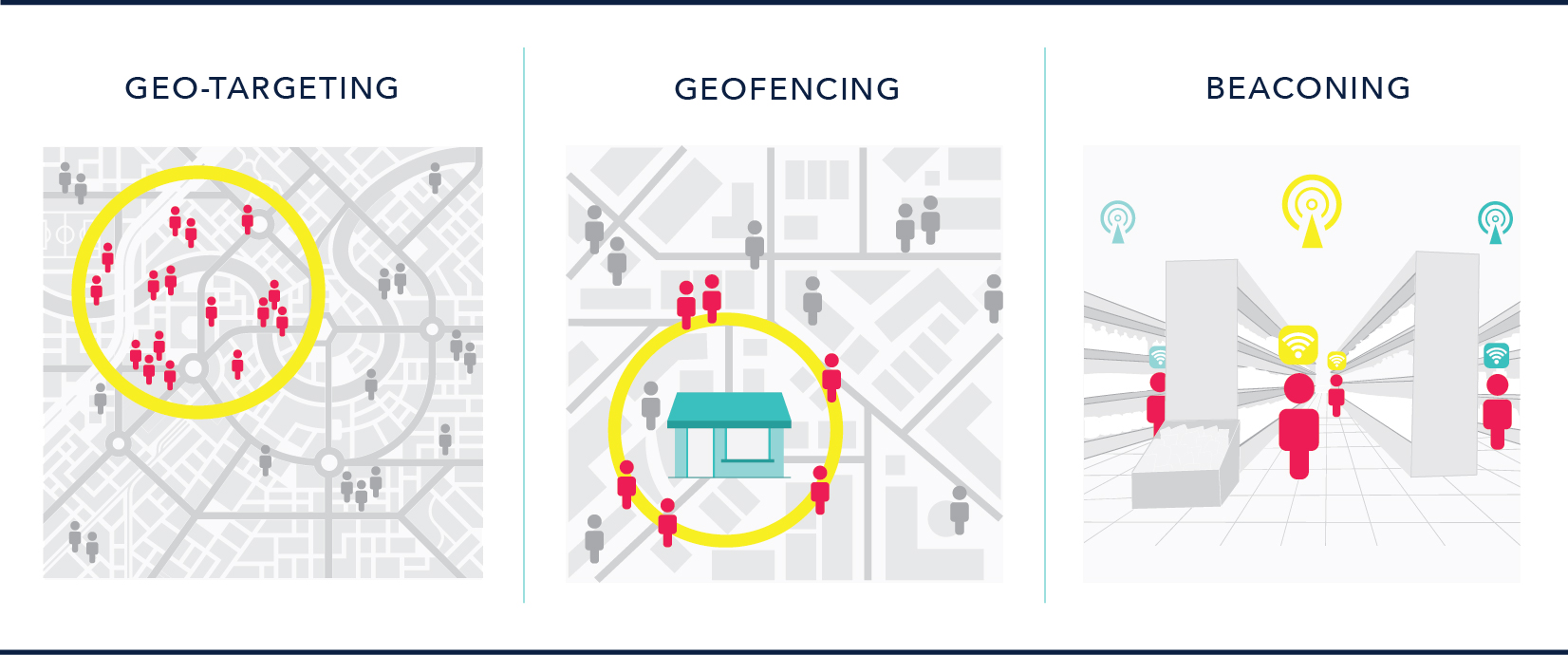 Many objectives warrant the use of geofences, but most align with driving revenue. For example, an ad-tech company may increase sales for their clients by strategically sending coupons to customers around the point of sale. A communication at this point in time is proven to be very effective at attracting customers towards further upsell and cross-sell opportunities. Moreover, a retailer may want to measure foot traffic across their business locations to efficiently place resources in stores that need the most help. A financial analytics firm can monitor parking lot volumes to predict future revenues and hedge the market. Further, a retailer can reach their audience when they are en route to a destination and influence where they spend their money. The list goes on and on, but all scenarios require accurate geofence data of all shapes and sizes.
One might suggest that use cases related to in-store visits are less relevant as ecommerce continues to grow, but geofences play a vital role in supporting the omni-channel experience. This is especially true for the millennial generation who are now a large part of the workforce with incomes to fuel much of America's consumption. A recent study by eMarketer reveals that a millennial's preferred method for making a purchase starts with online research and ends with buying in-store – in fact over 43% prefer this route to purchase. Moreover, Research estimates that "mobile influences 34% of total US retail sales, or well over $1 trillion. By 2022, the firm expects this figure will rise to 42%."  This statistic alone endorses the notion of "online to offline" behavior, and geofences serve as a key tool to extracting value from that behavior.
Geofencing is a superb technology with revolutionary potential to transform so called insignificant local data concerning a person's movement into great business intelligence, security intelligence, workforce monitoring and management, remote surveillance of transport and people, etc. Let us provide below a summary of key advantages of Geofencing technology.
Driving customers and traffic to business.
• Engaging customers and potential buyers with the business.
• Adding value to sales process by contextually making offers and promotional freebies and gifts.
• Offering a win-win business proposition to customers with relevant push notifications.
• Gaining business intelligence with location specific data about customers.
• Monitoring and managing workforce remotely.
• Better control and tracking on-road transport.
• Far enhanced collaboration among security personnel.
• Great event management through real time location alert and data.
To learn more about how geofence can help you business , click here